About

us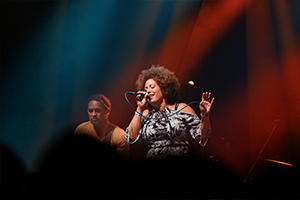 ''The best of the seventies brought to 2016'' is what TOTO guitarist and singer Steve Lukather came up with when he heard the music of TRISTAN!

Feel good vintage Acid Jazz music with the energy, vibe and sound of 2016 by some of today's best contemporary pop/jazz musicians from Europe. Funky rhythm guitars, Hammonds, Fender Rhodes and synths, and a rhythm section that has been playing together for decades. All this gives singer Evelyn Kallansee the solid ground to make her beautiful vocal sound shine. It will bring you back to that great sound of the seventies. On their mostly live played debut album "Full Power" they are joined by a hornsection, a string section and a host of backing vocalists. While the music may hold clear echo's from bands like Tower of Power, Snarky Puppy and classic acid jazz acts like Incognito and Brand New Heavies, what makes this band really stand out is the high energy of the grooves and the quality of the writing and arranging. Tristan - Full Power is a startling fresh debut album from a band consisting of real musicians. If you like plastic-made-up music by artists that have been processed and autotuned to death then this album may not be your cup of tea. If you on the other hand like well written live played and intelligently arranged Acid Jazz performed by great musicians this might just be the album you are looking for!
Our

biography

Evelyn Kallansee is a very all-round singer/actrice. Evelyn started her professional career in the musical Les Miserables. After this she studied musical theatre, acting and dancing at the Academy for " Kleinkunst" in Amsterdam. In the years that followed her All Round talent made her explore different genres; In musicals like Evita, Joe, Touring as backing vocalist for Dutch best- selling artist Marco Borsato, Jocelyn Brown, Tony Hadley and others.

Coen Molenaar

is a fulltime musician, composer and producer working worldwide and in a wide range of styles like Jazz, Fusion, Dance, Funk, R&B. Still touring with the legendary Jan Akkerman, he also worked with Chris Hinze, Deborah Carter, Do, Randy Brecker, Carole Denis/Nick van Gelder (former Jamiroquai) and Des'Ray.

Frans Vollink

at age 16, he got hooked to the electric bass. He studied at several Music Academies. After graduating Frans had the great fortune to play with some of the finest musicians around like Randy Brecker, Gerard Presencer, Nigel Hitchcock and Wayne Johnson.

Dutch drummer

Sebastiaan Cornelissen

studied at The Conservatory of Amsterdam. Later he worked as an 'in demand' live and session artist as well as a teacher at The Royal Academy of Music. Sebastiaan produced numerous of albums since and worked with artists such as Randy Brecker, Gary Willis and Gary Husband.

Guy Nikkels

,born in 1979 in Bogota and raised in the Dutch city of Deventer, picked up the guitar at the age of ten. In 1998 Guy was admitted to the Royal Conservatory in The Hague. His teachers were Peter Nieuwerf, Eef Albers en Wim Bronnenberg. Guy has played and collaborated with various acclaimed and famous artists, both nationally and internationally: Michael Brecker, John Ruocco, Kenny Werner, Eef Albers, Henk Meutgeert, Frits Landesbergen en Kurt Rosenwinkel.






Responses
(Bluey, Incognito)


"It gives me great pleasure to spread the news of Tristan's new album. Dutch jazz fusion and soul at it's finest! A collection of instrumentals that will enthral musicians everywhere and beautifully penned songs with gorgeous voices! Check it out! Peace... Bluey "

( Paul Miller @ BBC radio)


"We could be looking at album of the year here. The band are all brilliant artists in their own right, but put together, the sound they produce is nothing short of pure magic. I can only describe Tristan's music as soulful jazz-funk of the highest order - this album is simply wonderful.! ESSENTIAL! "

(Steve Lukather)


"The best of the 70-ties brought to 2014! Congrats on making FRESH burning album yet still groovin' ……. with melody and surprises. Knocked out! Luke "